Budget
Budget and Tax Facts>
2023 Budget
The 2023 Operating and Capital Budgets were approved by Council on March 22, 2023.  



Council approved the 2023 Budget with a total blended increase of 6.39%, which equals approximately $44.62 per $100,00.00 per residential assessment.  This presents a total tax levy of $10,754,172.00.
For an average residential home assessed at $395,000.00, the impact of the 2023 Budget equals an approximate increase of $170.00.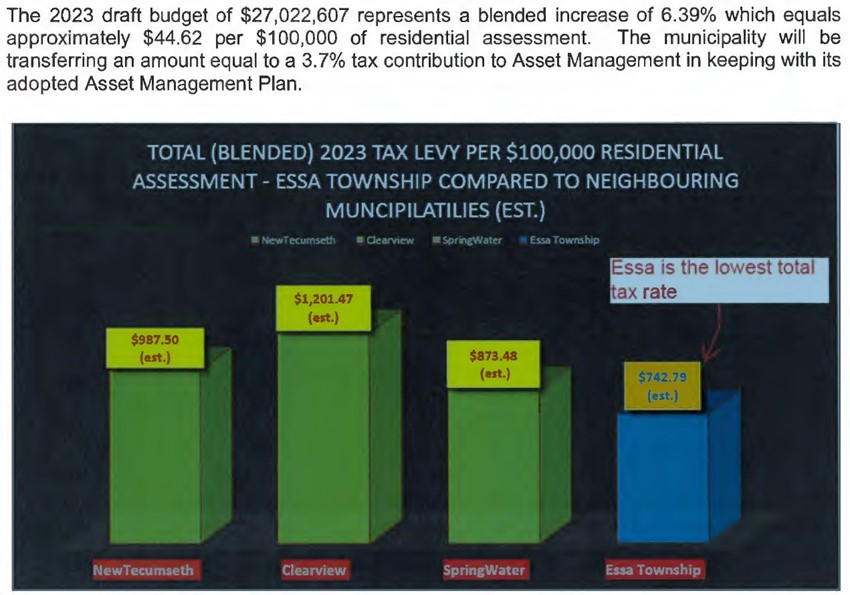 2023 Budget and Tax Facts
Please be patient.  Staff will update this information shortly!
2022 Budget and Tax Facts
2022 Total Budget
$18,139,790
2022 Total Taxy Levy
$8,389,825
2022 Tax Increase
2.0%
2.0% Asset Management

2021 Budget and Tax Facts
2021 Total Budget
$18,605,762
2021 Total Tax Levy
$8,097,650
2021 Tax Increase
3.0%
3.99% Asset Management